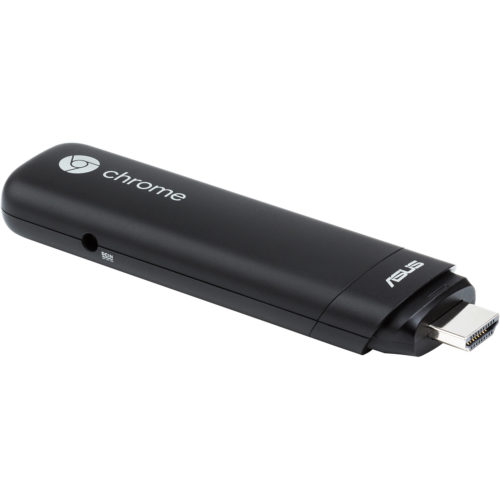 Chromebit – A full Chrome OS-based computer on an HDMI stick.
The $85 Chromebit is a 75 gram (or 2.6 ounces) stick that you can plug into any HDMI port — whether that's a regular computer screen or that large TV in your living room. It comes with 16GB of onboard storage (in the form of relatively cheap and slow eMMC storage) and 2GB of RAM.
Google – Chromebit Device
In many ways, it's a larger, bulkier version of the old Chromecast stick. Just like that device, it comes with a dedicated charger, but unlike the Chromecast, it also features a USB port. The Rockchip-based Chromebit comes in "Cacao Black" and "Tangerine Orange," but overall, it's a pretty unassuming device that's mostly meant to disappear behind your screen anyway (hence why I'm not sure why there is an orange version).
While most people will likely want to use a Bluetooth mouse and keyboard to connect to the Chromebit, the USB port allows you to plug in wired peripherals as well (and with a USB hub, you could even plug in multiple devices).
Because it's a full Chrome OS machine, you can pretty much run any web app on it. It'll let you play movies and TV shows from Google Play, Netflix or Hulu, just like any other Chrome OS device, for example.
You could probably use the Chromebit as a somewhat cumbersome media center in your living room if you wanted to, but it's really at home in a school, enterprise, or maybe call center. As long as the work only involves web apps (or maybe a remote connection to a more fully-featured machine), the Chromebit is up for the job and can turn any screen into a usable desktop.
In the U.S., the Chromebit will be available at Amazon, Fry's and Newegg (interestingly, Google's usual Chrome OS partner Best Buy isn't part of this initial list of vendors).